Join us in our
5th Annual Spring Metric Bicycle Ride
Saturday, May 9, 2015
Enjoy rolling hills and beautiful spring scenery in route to historic Adams Mill. This ride boasts the most energetic SAGs of any ride and features more food and desserts than any rider should eat. We have a ride for everyone! There will be a 9-mile, 20-mile, 33-mile, 50-mile, 62 and 66-mile route. The route will begin and end at Bible Baptist Church (2635 S. Dixon Road in Kokomo). The ride will include rest stops and a roaming SAG truck.
This is a rain or shine event!
Download/open the registration form below to see more information and to sign up. Choose the format you prefer.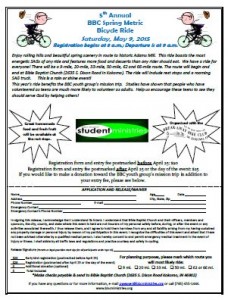 Download registration form – PDF format