The BBC Bookstore offers a convenient means to purchase resources while you're right here at church. Features of the bookstore include the following:
Resources that are referred in our Counseling Ministry are stocked on a regular basis.
Current and New book selections are available
Most items stocked are non-fiction such as Bible studies, personal resource helps, references, and Bibles
A limited selection of Christian fiction is also kept in stock
Over 2,100 books/pamphlets are on our shelves comprising over 1,000 different titles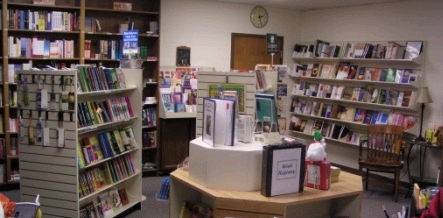 Of Special Note
We have a complete selection of Greeting Cards from Legacy. These gorgeous cards are a convenient way to encourage a friend. Each card includes a verse of Scripture.
Our Memories Table: Our Scrapbook collection of BBC church history is available for your perusal. Come in and enjoy the story of our church in pictures, back from the 1940's to present
Make sure you stop by our Clearance Rack with deeply discounted items that are priced for quick liquidation
We have a Monthly display highlighting a special theme to get your reading interests piqued.
What They're Reading: Check out our display of books recommended by others in the church. You can not only see what others are reading, you can buy them at the Bookstore for yourself!
Check out our Pastor's Corner where you will find books highlighted in recent sermons, or recommended by our pastors.
Is there a book in the Bookstore you would love to have, but don't want to buy for yourself? Parents, is there a book your child/teen would want, but they always forget to ask you? Check out our Wish Registry notebook where you can list the titles of books you are interested in, and we will be happy to pass along the information to other friends or family members. Ask us how to register!
All items are discounted, every day
Most items are priced at 20% off of suggested retail
Special Orders
Most any book or media item that you may need may be special ordered
Ordered items are usually available for pickup within seven days
There is generally no shipping cost added for special orders
You may find that we can get you an item for total less cost than ordering it yourself at online web sites, especially when considering the added cost of shipping. Feel free to check on the prices yourself and then come in and see what our price would be
ChristianBook.com
Amazon.com
DaySpring.com
Our inventory is now online. Looking for a particular book or reference? Find out if we have it by clicking here.
Come on in and browse.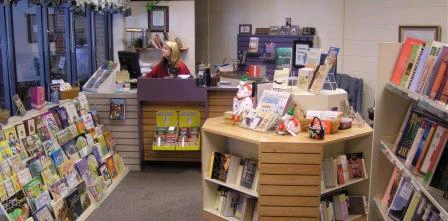 Questions? Ask for Dave & Melanie at the bookstore, at the church office, or drop us an email.